Here's some photos from Chip Shop's second outing at the Red Art Cafe, in Dalston.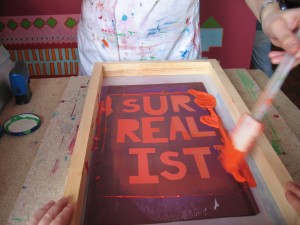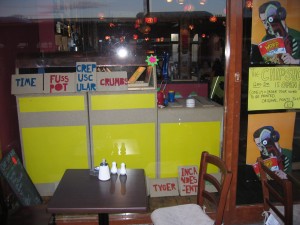 That was the last day for word submissions for the official London Word Festival 2010 Poem, which will be unleashed by Ian McMillan at the Art of Storytelling Event on 31st March. (More about that later)
Next up is Keep Printing and Carry On, at Stoke Newington International Airport, Saturday 20th March. We will be there with the Chip Shop, doing 3 print collaborations with Darren Hayman, Jo Neary & Murray Macaulay (by courtesy of the Universettee). Where else on a Saturday night will you find live music, cutting edge comedy and also a lecture/demo of screen printing via a mobile workshop in the form of a chip counter? Not to mention the potato printing in the village allotment….
Here's the flyer! Hope to see you there!