26th June 2008, 7.30pm
The Foundry
86 Great Eastern Street
London EC2A 3JL
Dalston art duo transform the Foundry basement into a 12 foot record player… has to be seen to be fathomed – Time Out
We invited American musician John Ringhofer (Half-handed Cloud, Asthmatic Kitty Records) to work with us on a poster print. He suggested combining this with themes for his upcoming Dove EP (Burnt Toast Vinyl), imagining an impromptu community of singers arranged like a giant record player, so we ended up making a poster, performance and contributing to a vinyl record.
The show was divided into a side A and side B with intermission (for flipping the record). The label was screenprinted to open each side of the show. Each 'side' featured three unreleased songs. These were later recorded in the USA and became the Dove EP, and we scratched the B-side Op Art for the physical release.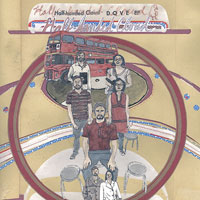 I'm not sure when Scott Hatch first invited Half-handed Cloud to contribute to Burnt Toast Vinyl's One-Sided LP series… The conversation that led to my involvement in this series may have happened when Scott was in San Francisco on a business trip a few years ago, and took me to a breakfast of silver dollar pancakes at a brightly colored diner.

I first got to know the other people central to the making of the DOVE EP, David and Ping Henningham, a few years after that. They're printmakers and run London England's Henningham Family Press. I met them in the autumn of 2005 while I was touring the UK as the trombonist with Sufjan Stevens' Illinoisemakers band. The Henninghams were also in the audience of Half-handed Cloud's first European show (in London), and we got a chance to talk afterwards. I spoke with them again a year later when I was playing bass at a Danielson show during the European leg of the Ships tour (Ping baked us cupcakes).

In the fall of 2007, Henningham Family Press reached out to me about collaborating with them on a hand-printed art poster, accompanied by a release event/art happening to be held in London the following summer. It was determined that I'd also write a suite of songs that would be performed at the poster release. We communicated through email over several months about the themes we were considering: community, records, doves, gentleness, and rest.

At the time I was regularly listening to gentle records on my turntable each night at bedtime in order to combat insomnia, and the dove seemed like a symbol of this peaceful state. We started making connections between the themes. We eventually thought, "What if the dove's beak could serve as a type of record needle?"

David secured a London venue in the basement of a space named The Foundry for our printmaking event, and before he could visit it to see if it was suitable, he had a dream that I was standing upon a large rounded platform, posing as a record stylus, walking in circles to suggest the spin of a vinyl record. Later, during his visit to the venue, he noticed a large circle in the floor and wondered what it was. The person showing him the space explained that The Foundry basement used to be a bank vault, and that the circle was once used to spin armored trucks around so that they could face forward as they exited the vault. So instead of constructing a rounded platform for me to walk in circles upon, the Henninghams built a giant 12-foot diameter record out of plywood that could be placed upon the circle and spun as I walked in place on it.

As the event approached, I finished demos of seven songs on a 4-track cassette recorder in the U.S. Then I flew across the Atlantic Ocean and spent a week creating a 20″x13″ poster together with Henningham Family Press. We printed it on textured Bordeaux paper manufactured by windpower in an edition of 94.

Our event (The Giant 12-Foot Vinyl Experiment) took place on June 26th 2008, and was divided into two movements: Side A & Side B. Henningham Family Press indicated the beginning of each section by performing a live silk-screening of "Side A" or "Side B" in red letters on the label of the giant record. Entry was free, and thanks to a mention in "Time Out London" we had a capacity crowd in attendance.

We'd previously decided that we needed sing-a-long parts so that we could extend the community subject matter into the audience community itself. The sing-a-long sections were signaled during the performance by friends who lifted large placards with lyrics like, "Oooo," "Aaah," and the slightly embarrassing "Dooo." I was also able to play the 4-track demo to a handful of local musicians before the show so they could accompany me on a couple tunes during the performance…

…This release was in the works for a long time, and so many people were patient with me. Much gratitude to Scott Hatch, Henningham Family Press, Thera, The Foundry (R.I.P.), Grace Church Hackney, BSDA, the Morgans, Asthmatic Kitty Records, Brandon Buckner, and all the players, singers, and various participants.

John Ringhofer, Temescal Commons, Oakland CA, Summer 2011.